The South China Morning Post reports
City authorities draw the line on cannabidiol, despite ongoing debate among experts on risks of abuse
Some traders still selling remaining stocks of CBD products, which gained popularity in recent years
Peter Li* dumped more than 200 items of cannabidiol (CBD) products at an official collection point, anxious to avoid trouble once Hong Kong's ban on the cannabis-derived wellness goods takes effect on February 1.
The 35-year-old fashion designer began his side business in July 2021, tapping into the growing popularity of CBD products, which users said relieved stress and pain and improved their sleep.
He developed his own brand of oil, softgel capsules and candies which he sold online and at a shop in Kwun Tong.
Controversial for their link to cannabis, CBD products were legal until Hong Kong changed the law last year, despite protests from some quarters that banning them would be an overreaction.
From Wednesday, anyone caught possessing or consuming CBD products will face up to seven years' jail and a maximum fine of HK$1 million (US$127,720). Those who trade in these products or make them face up to life in jail and a maximum fine of HK$5 million.
Li dumped stocks worth more than HK$100,000 after the authorities encouraged traders to leave whatever they had at 10 collection points before January 30.
Explaining why he did not sell them quickly or give them away, he said: "Possession is banned too, there's no point in giving trouble to others."
As a chemical compound derived from the cannabis plant, CBD has been a subject of debate among scientists and law enforcement experts in several countries.
Hong Kong's ban on products containing CBD comes into effect next week: customs
27 Jan 2023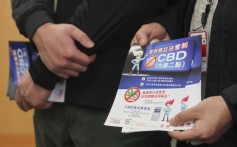 It is known for its potential medicinal values and being non-psychoactive and not addictive. The World Health Organization said CBD in its pure state did not appear to have abuse potential or cause harm.