An interesting set of job postings appeared over the weekend Chicago based  Collateral Base looking for attorneys to work in  6 states
Here are the listings
So.. who is /are collateral Base ?
Essentially it is all the work of Thomas Howard
This is what the website says
Thomas Howard – Attorney Peoria IL
Licensed to practice since 2008, Thomas Howard has represented numerous financial institutions in litigation to enforce their security interests.  Since 2018, he has helped numerous cannabis companies with their hemp farms, to licensing applications in the adult use cannabis industry.
He helps community banks in complex commercial workouts involving some of the most sophisticated financial products in the banking industry.  He has also litigated in contested contract cases on various legal theories.
A Peoria, IL attorney recognized by Super Lawyers & Leading Lawyers
After nearly ten years of practicing law with his father, Mr. Howard started the Collateral Base to bring sophisticate corporate and commercial law into the 21st century by shaking up the current corporate culture that makes so many lawyers regret going to law school and have terrible work/life balance.
To assist downstate community banks with flat fees for uncontested litigation, he has designed and built the Collateral Base website, where he publishes regularly on security interests and offers his flat fee menu of services.  He also built automation systems into his bank litigation practice to facilitate his flat fee offerings.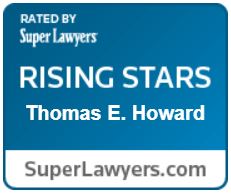 Uniform Commercial Code issues, replevins, guaranty actions, and bankruptcy. He has successfully resolved numerous multi-million dollar non-performing loans for many community banks throughout Illinois.  As a result of his efforts, Mr. Howard earned Rising Stars by Super Lawyers, and as an Emerging Lawyer by Leading Lawyers from 2015 to 2018. Only two percent of attorneys ever receive such distinction.
Mr. Howard represents financial institutions and business creditors in commercial litigation and bankruptcy matters.  He has a broad experience in real estate mortgage foreclosures, replevins of personal property and  suits on notes and guaranties.  He also represents creditors in loan workouts and in bankruptcy matters to enforce their rights.
Thomas Howard Lawyer & Web Developer with SEO Skills.
Thomas Howard also develops websites and various software applications for his legal career.  WorkVisas.Solutions  expands his offerings to businesses that have corporate immigration needs to keep the world's best talent working in the United States.
Mr. Howard is a member of the American Immigration Lawyers Association (AILA) and sits on the Illinois State Bar Association's (ISBA) section council on Immigration Law.
Mr.Howard owns a tech company named Stumari, which he uses to expand his service offerings into the issues faced by tech companies in their privacy policies, terms of service, contracts with developers, business formation and fundraising issues.
Additionally, he builds websites for lawyers and businesses seeking to get more clients from internet traffic.
Mr. Howard advises businesses and financial institutions in the the incipient marijuana industry. He frequently publishes articles on the same and has even published a book on the history of the marijuana laws.
Illinois Cannabis Lawyer
He often posts YouTubes regarding issues faced by the cannabis industry, and advocates for allowing cannabis businesses to access banking services by dropping cannabis from the Controlled Substances Act, which requires an act of Congress.
Source:  https://www.collateralbase.com/attorneys/thomas-howard/
Here's his Linked In
This press release was just issued 15 December
Source:  https://www.wicz.com/story/43058922/collateral-base-launches-pitch-deck-service-package-for-emerging-agricultural-industry
Collateral Base Launches Pitch Deck Service Package for Emerging Agricultural Industry.
Thomas Howard, prominent lawyer in the emerging agriculture industry, and Josh Kincaid, a capital market analyst with over twenty years of experience joined forces to launch their new Pitch Deck Service in order to help people create solid business plans that catch the attention of potential investors.
Now that the emerging agriculture industry is gaining traction, with more states changing their regulations towards it, this might be the perfect time to jump into the game field, but you have to be well prepared for the endeavor.
This team of experts will guide you through successful pitch decks from MSOs, reviewing them and helping you create a custom deck you can use in your own venture.
The service aims to help entrepreneurs focus their business into fifteen slides and build a framework of what to do with capital in order to make it grow. So if you are wondering how to raise capital onto your business, need help creating a business plan or just need an extra push to get into the emerging agriculture industry, the Pitch Deck Service is what you need. Also, if you have other inquiries you can't seem to find anywhere else, you can always reach out to collateralbase.com and Tom and his staff will gladly answer your questions.
About The Collateral Base Team
After 10 years of experience providing legal services for emerging agriculture businesses all around the country, Tom Howard, lead attorney of the firm Collateral Base, created a law blog where he and his team have set their efforts to educate and inform people about the lucrative business of emerging agriculture. You can sign up for their newsletter that will include lots of actionable intelligence for your emerging agriculture business.  Make sure you subscribe to Tom's podcast on YouTube or your favorite podcast provider.
On the other hand, Josh Kincaid worked in finance as a capital market analyst for years before turning exclusively to the emerging agriculture industry. Nowadays he's on the Board of Advisors, as well as a Capital Market Analyst, Director of Finance and contract for CFO for companies throughout North America. He has a degree in International Business Management from Western Washington University and a Masters degree in Finance from City University of Seattle and intends to leverage his resources and expertise to drive the emerging agriculture industry further.
Media Contact
Company Name: Collateral Base, LLC
Contact Person: Ivette Cuenod
Email: Send Email
Phone: 3097404033
Address:The Maxam Building 316 SW Washington St. Suite 1A
City: Peoria
State: IL
Country: United States
Website: www.collateralbase.com
He's also very busy on his You Tube Channel
Are we looking at Illinois' version of Hoban Law / Vincente Sedeberg ?  2021 will tell by the looks of it