Sales in Italy of so-called "cannabis light" – low-THC and CBD-rich flowers derived from hemp – have been linked to a drop in purchases of different medications, indicating some patients chose to abandon prescription drugs in favor of self-medication with an unregulated CBD-based therapy.
MJ Biz report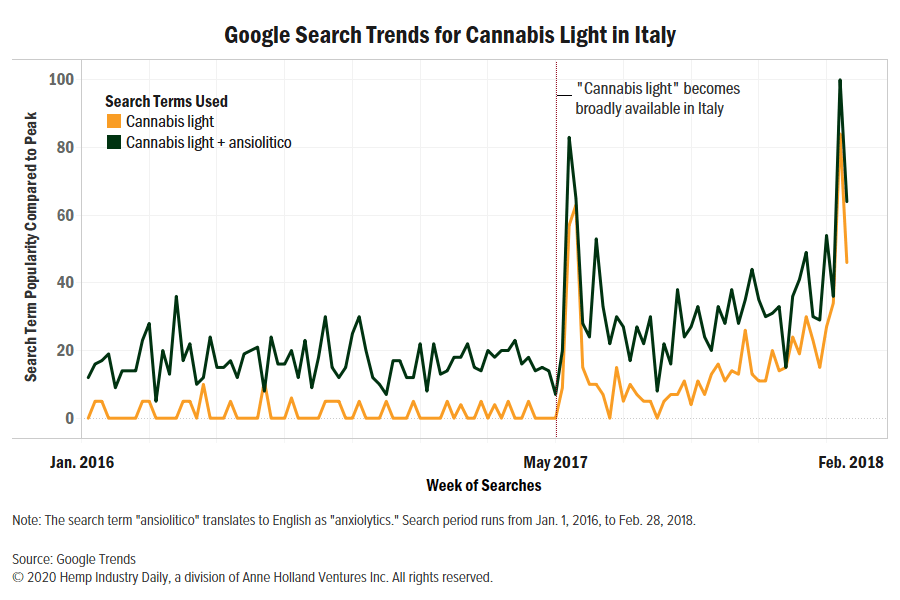 A new study in the Journal of Health Economics found that the availability of "cannabis light" – flowers from high-CBD hemp plants with up to 0.6% THC – in Italy was connected to:
An 11.5% decrease in dispensed boxes of anxiolytics (anti-anxiety medications).
A 10% reduction of dispensed sedatives.
A 4.8% reduction of dispensed antipsychotics.
"The large-scale accessibility to the new product, which was advertised as a relaxant one, induced some patients to abandon traditional medicine to seek relief," the authors concluded.
the study
abstract
Governments worldwide are increasingly concerned about the booming use of CBD (cannabidiol) products. However, we know little about the impact of their liberalization. We study a unique case of unintended liberalization of a CBD-based product (light cannabis) that occurred in Italy in 2017. Using unique and high-frequency data on prescription drug sales and by exploiting the staggered local availability of the new product in each Italian province, we document a significant substitution effect between light cannabis and anx- iolytics, sedatives, opioids, anti-depressants and anti-psychotics. Results are informative for regulators and suggest that bans on light cannabis use would disregard the needs of patients to seek effective reliefs of their symptoms.
Source
Study: 'Cannabis light' used in Italy in place of sedatives, antidepressants