THE PRICE –
Free
THE DATE –
Thu, June 18, 2020
4:00 AM – 8:00 AM AEST
THE RATING –
THE BLURB –
CFN Media is teaming up with The CSE to host the online event that will bring together leading financial experts and CEOs on live panels for an in-depth view into the value proposition of the emerging psychedelics market. Attendees will see and hear from bankers and funds from across the globe discussing the best investment opportunities and their due diligence processes. CEOs from private and publicly listed psychedelics companies will share their approach to navigating the capital markets to build market defining business models.
Leading up to the live event, registrants will receive pre-recorded one-on-one interviews with the industry's preeminent medical experts, thought leaders and CEO's beginning on May 27, 2020. These video 'micro sessions' will provide insights into the history of psychedelics in medicine, current clinical applications and the business models poised to seize market share.
June 17th Investing in Psychedelics LIVE EVENT!
A full afternoon of panel discussions amongst bankers, thought leaders and participating companies.
Bankers / Brokers
Private Companies
Public Companies
Micro Sessions Agenda
Each week registrants will receive links to one-on-one video interviews with thought leaders in the psychedelics space, offering insights into the history, applications, and future of the sector.
May 28th
Richard Carleton, CEO of the Canadian Securities Exchange, discusses this emerging sector and how to navigate it through listings and the capital markets.
Bruce Linton, Chairman of the Advisory Board for Red Light Holland Corp. (CSE:TRIP), discusses the space and its opportunities.
June 3rd
Dr. Dennis McKenna, Director of Ethnopharmacology at the Heffter Research Institute, provides an in-depth overview of the history of psychedelics.
Dr. Roger McIntyre, CEO of Champignon Brands (CSE:SHRM), gives an in-depth preview to the application of psychedelics and their therapeutic uses.
Dr. Nikos Apostolopoulos,  CSO of AlphaMind Brands, talks about therapeutic applications and AlphaMind's recent acquisition by Hollister Biosciences (CSE: HOLL).
June 10th
CEO clips from each participating company showcase the pioneering work they're doing in the world of neuro-pharmaceuticals.
Also, check out our event Virtual Industry Updates: The Rise of the Psychedelics Sector in partnership with MNP LLP and Aird & Berlis LLP coming up on June 10th.
June 17th Event Agenda Topics
Panel #1 – Psychedelics and the Capital Markets
Panel #2 – Psychedelics on a Molecular Level: Pharma-Grade R&D
Panel #3 – Therapeutic Applications of Psychedelics
Panel #4 – Mushroom-Based Formulations and Consumables
Panel #5 – The Future of the Retail Market
Panel #6 – How Technology Will Impact the Industry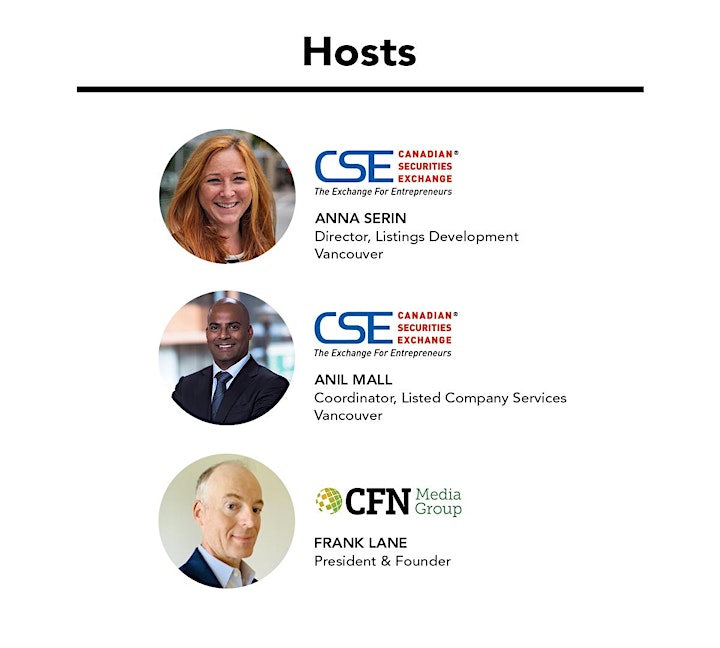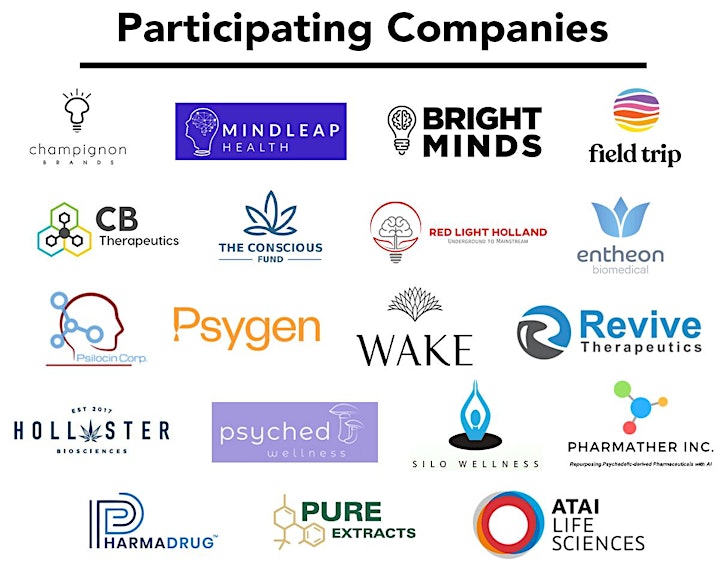 THE LINK –
https://www.eventbrite.ca/e/investing-in-psychedelics-tickets-105591250272