Hepatotoxicity of a Cannabidiol-Rich Cannabis Extract in the Mouse Model
Abstract
The goal of this study was to investigate Cannabidiol (CBD) hepatotoxicity in 8-week-old male B6C3F1 mice. Animals were gavaged with either 0, 246, 738, or 2460 mg/kg of CBD (acute toxicity, 24 h) or with daily doses of 0, 61.5, 184.5, or 615 mg/kg for 10 days (sub-acute toxicity). These doses were the allometrically scaled mouse equivalent doses (MED) of the maximum recommended human maintenance dose of CBD in EPIDIOLEX® (20 mg/kg). In the acute study, significant increases in liver-to-body weight (LBW) ratios, plasma ALT, AST, and total bilirubin were observed for the 2460 mg/kg dose. In the sub-acute study, 75% of mice gavaged with 615 mg/kg developed a moribund condition between days three and four. As in the acute phase, 615 mg/kg CBD increased LBW ratios, ALT, AST, and total bilirubin. Hepatotoxicity gene expression arrays revealed that CBD differentially regulated more than 50 genes, many of which were linked to oxidative stress responses, lipid metabolism pathways and drug metabolizing enzymes. In conclusion, CBD exhibited clear signs of hepatotoxicity, possibly of a cholestatic nature. The involvement of numerous pathways associated with lipid and xenobiotic metabolism raises serious concerns about potential drug interactions as well as the safety of CBD. View Full-Text
1
Department of Environmental and Occupational Health, University of Arkansas for Medical Sciences, Little Rock, AR 72205, USA
2
Department of Pharmacology and Toxicology, University of Arkansas for Medical Sciences, Little Rock, AR 72205, USA
3
Center for Dietary Supplements Research, University of Arkansas for Medical Sciences, Little Rock, AR 72205, USA
4
Department of Pathology, University of Arkansas for Medical Sciences, Little Rock, AR 72205, USA
5
National Center for Natural Products Research, University of Mississippi, University, MS 38677, USA
6
ElSohly Laboratories, Inc. (ELI), Oxford, MS 38655, USA
7
Department of Pharmaceutics and Drug Delivery, School of Pharmacy, University of Mississippi, University, MS 38677, USA
8
Department of Pharmaceutical Sciences, University of Arkansas for Medical Sciences, Little Rock, AR 72223, USA
*
Author to whom correspondence should be addressed.
Received: 11 April 2019 / Revised: 29 April 2019 / Accepted: 29 April 2019 / Published: 30 April 2019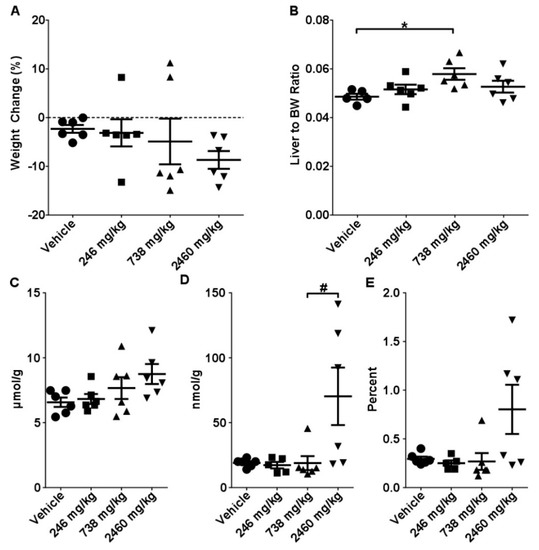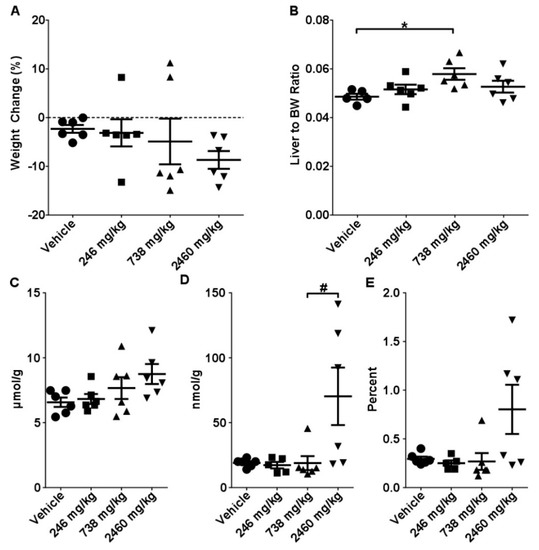 Figure 1
This is an open access article distributed under the
Creative Commons Attribution License
which permits unrestricted use, distribution, and reproduction in any medium, provided the original work is properly cited (CC BY 4.0).
Share & Cite This Article
MDPI and ACS Style
Ewing, L.E.; Skinner, C.M.; Quick, C.M.; Kennon-McGill, S.; McGill, M.R.; Walker, L.A.; ElSohly, M.A.; Gurley, B.J.; Koturbash, I. Hepatotoxicity of a Cannabidiol-Rich Cannabis Extract in the Mouse Model. Molecules2019, 24, 1694.
Note that from the first issue of 2016, MDPI journals use article numbers instead of page numbers. See further details here.