Does this fall under the EU Novel Foodstuffs classification ?  Read on  and we've thrown in an extra  nugget we found earlier in the week where another set of smugglers decided the best pace to hide their stash was  with the veggies !
The Guardian report
Two Dutch men jailed after NCA intercept text asking what to do with 'the old cheese'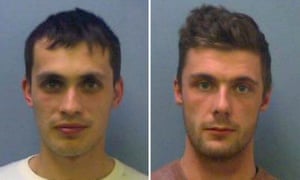 A plan by two Dutch men to hide half a tonne of cannabis in piles of pizza cheese was foiled when they were caught at the UK border.
Henrik Ruben, 28, and Dominic Leeman, 30, attempted to smuggle drugs with a street value of £5m in two shipments of cheese, the NationalCrimeAgency said.
The pair were caught when the packages were intercepted at Dover Docks by Border Force in 2016.
Ruben, of Dieren, was jailed for six years at Maidstone crown court on Thursday after a jury convicted him of conspiring to import drugs.
Leeman, of Arnhem, was found guilty of the same charge and sentenced to five-and-a-half years.
They were part of a wider organised crime group and operated two units on Slough Trading Estate, where the cannabis was to be unpacked.
The cheese was then to be repackaged and shipped back to theNetherlandsto be used again.
The duo used encrypted phones to communicate, but National Crime Agency investigators were able to access their messages.
The investigation revealed the pair discussed arrangements for transportation of the cannabis to clients.
In one text, the damning question: "Do I have to put the old cheese in those boxes the product is delivered in?" was exchanged.
Ruben's phone had photos of herbal cannabis and cannabis resin on it, as well as pictures of a forklift truck being used to load and unload pallets of white boxes from an HGV.
Read the full story https://www.theguardian.com/uk-news/2019/oct/31/drug-smugglers-caught-hiding-cannabis-in-stacks-of-pizza-cheese
Meanwhile, on the veggie front.
More than £2,800,000 of weed found hidden in fresh vegetables
Two British men have been arrested after £2.8 million of cannabis was seized in a batch of fresh vegetables in Ireland. The Republic of Ireland's Garda National Drugs and Organised Crime Bureau said its officers uncovered the haul when they intercepted a truck in Ballymascanlon, a village near Dundalk about three miles from the border with Northern Ireland. The stash, found Tuesday, was worth an estimated street value of €3.2 million (£2.8 million). Two men, aged 57 and 42 from Britain and Northern Ireland, have been arrested on suspicion of drug trafficking and are being held at Dundalk Garda station.
Read more: https://metro.co.uk/2019/10/30/2800000-weed-found-hidden-fresh-vegetables-11009706/?ito=cbshare