Through the Attorney General's Office, Perdue is requesting help from outside counsel with a background in medical cannabis law, criminal defense and the Freedom of Information Act. The request specifically cites "potential legal issues involving the United States Attorney" for the Southern District of West Virginia — Mike Stuart.
The hiring marks a ramping up of what Perdue's office sees as a potential legal threat from Stuart, who regularly speaks out against legal marijuana programs, as well as hemp — a product derived from the same plant as marijuana that lacks the psychoactive components that gets users high.
Perdue's request seeks assistance with "interplay between state and federal cannabis laws," including those relating to banking the programs.
Gina Joynes, a spokeswoman for Perdue, said the office hired outside counsel because of Stuart's request and because it takes seriously a provision in the state's marijuana banking law that permits West Virginia to "defend the Treasurer and the state officers and employees involved in cannabis-related banking or financial services."
Stuart has not filed any notice of a pending lawsuit or criminal charges.
Government agencies regularly field FOIAs without retaining outside counsel. Joynes did not comment on the hiring, and declined to speculate as to what action Stuart might take.
"I will just reiterate that our office takes any correspondence with the U.S. Attorney's Office seriously," she said.
"[Stuart] seems to be pretty vehement, in terms of his beliefs against marijuana as a whole," she told the House Banking and Insurance Committee. "He brought civil action against hemp farms. We have no idea what he basically would do in regard to [cannabis banking]. So the office really is a little bit worried."
The interplay between the 33 states that allow for some form of legal marijuana and the federal government gets a bit fuzzy. The federal Controlled Substances Act prohibits the possession and sale of marijuana, and the Bank Secrecy Act prohibits financial institutions from handling marijuana accounts.
The guidance instructs banks to file "Suspicious Activity Reports" for all marijuana businesses they back with a range of priority levels, pending on whether the businesses trigger any "red flags" as outlined by the Department of Justice.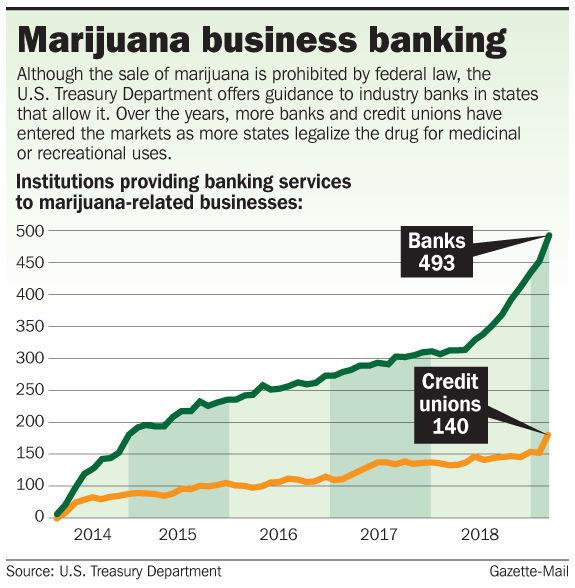 "Treasurer Perdue has always been a pretty straight shooter. He's trying to comply with the law, and he wants to get guidance there so his programs are not stepping into an area that's unsafe for the state," said Chuck Johnson, a Charleston attorney who has briefed the Legislature on banking medical cannabis, about Perdue hiring outside counsel.
Johnson said a credit union handling the medical cannabis program would need to ensure "compliance on steroids," as far as a proactive and cautious approach in following federal guidance, but it can be done.
"It's something that can be done and has been done in other states," he said.
At the Legislature's request, Attorney General Patrick Morrisey issued an advisory opinion in January on the issue of cannabis banking. The opinion notes FinCEN's guidance, the lack of federal prosecution against state-law-abiding marijuana businesses and congressional regulations that prohibit the use of appropriated funds to prosecute such businesses.
Delegate Mike Pushkin, D-Kanawha, is among the program's strongest supporters in the Legislature. He said Stuart is using his perch to try to "bully" parties out of a program he has a personal problem with.
"If the U.S. Attorney wants to create policy and go beyond enforcing it, maybe he should try running for office," Pushkin said.
A spokeswoman for Stuart could not be reached for comment.
"Congressman Mooney is strong believer in the 10th Amendment, which empowers the states, not the federal government, to be the primary decision-maker on law enforcement issues," Mooney said through a spokesman. "The SAFE Banking Act respects the power of states, like West Virginia, to regulate the marijuana industry as they see fit. Forcing businesses to bank on a cash-based system increases the chances of criminal activity."
https://www.wvgazettemail.com/news/legal_affairs/with-feds-in-mind-wv-treasurer-lawyers-up-on-medical/article_0e50e7d4-317c-56ea-81ca-1a0a3c0de578.html