INTERNATIONAL
Title: Regulations Shaping the International Medical Cannabis MarketUnderstanding regulations is essential to gaining a strong foothold in the international cannabis market
Author: INN Daily
Date: 3 January 2018
URL: https://investingnews.com/daily/resource-investing/agriculture-investing/cannabis-investing/cannabis-marijuana-international-regulations-approval/?as=1&nameplate_category=Daily
Extract:  "Medical cannabis regulation is very complicated and manufacturing is regulated at each step of the value chain.The global medical cannabis market is at a very earlier stage of development and we will see a lot of changes in the next few years," said Stanislav Sologubov, CEO of Satipharm, a Swiss-based international medical cannabis company which specializes in oral delivery technologies and health products. The company's Gelpell® microgel capsule is the only cannabis-based product on the market with a pharmaceutical-grade Good Manufacturing Practice (GMP) certification.
"The market at the moment is highly fragmented and mostly represented by a lot of very small companies selling products without any recognized quality certifications," said Sologubov. "For that reason such products are not accepted by the pharmaceutical distribution chain, and are instead sold by the producers directly to consumers online."
Title: GW files cannabis-based epilepsy drug in EU and US
Author: Pharmaphorum
Date: 2 January 2018
URL: https://pharmaphorum.com/news/gw-files-cannabis-based-epilepsy-drug-eu-us/
Extract:   GW Pharmaceuticals ended 2017 by filing its childhood epilepsy drug Epidiolex with regulators in the US and EU, setting up a potential launch for a drug that could transform the company's fortunes.
Epidiolex (cannabidiol) is expected to become a blockbuster if it is approved in its three major indications.
GW specialises in drugs developed from cannabis plants, and already has Sativex (nabiximols) approved in markets including the UK for multiple sclerosis spasticity.
However Sativex failed in a phase 3 cancer pain trial two years ago, leaving the company's main hopes resting on Epidiolex.
The recent filings cover the most lucrative indication, the rare childhood epilepsy Lennox-Gastaut syndrome, and Dravet syndrome.
ASIA
Title: Asia-Pacific Legal Cannabis Market Attractiveness, Competitive Landscape and Key Players Aurora Cannabis , Canopy Growth Corporation , Bhang Corporation
Author: Island Post Gazette
Date: 4 January 2018
URL: http://islandpostgazette.com/asia-pacific-legal-cannabis-market-attractiveness-competitive-landscape-and-key-players-aurora-cannabis-canopy-growth-corporation-bhang-corporation/39213
Extract: 
Key points of the Asia-Pacific Legal Cannabis market report:
Proper market environment investigation
Concrete valuation market projection
Multi-level Industry subdivision
Upcoming technological advancements in market
Evolving local segments and regional markets
Past, current, and future magnitude of the market according to net worth and total capacity
Market shares of key competitors
Expert advice for executives to make an impact in the industry
AUSTRALIA
Title: Australia to Allow Medicinal Cannabis Exports to Capture Lucrative Market
Author: The Wire
Date: 4 January 2018
URL: https://thewire.in/210528/australia-to-allow-medicinal-cannabis-exports-to-capture-lucrative-market/
Extract:  Sydney: Australia said on Thursday it planned to become the fourth country in the world to legalise medicinal marijuana exports in a bid to score a piece of the estimated $55 billion global market.
Cannabis cultivation in Australia is still relatively small, as recreational use remains illegal. But the government hopes domestic medicinal use, legalised last year, and exports will rapidly boost production.
"Our goal is very clear: to give farmers and producers the best shot at being the world's number one exporter of medicinal cannabis," health minister Greg Hunt told reporters in Melbourne.
Shares in the more than a dozen Australian cannabis producers listed on the local exchange soared after the announcement.
CANADA
Title: Canadian cannabis grower Aurora heads to Europe
Author:  BBC
Date: 4 January 2018
URL: http://www.bbc.com/news/business-42569540
Extract:  A Canadian marijuana maker is set to sell cannabis in several European countries after striking a deal with Denmark's biggest tomato producer.
Aurora Cannabis is partnering with Alfred Pedersen & Son to produce cannabis for medical use in Europe.
The greenhouses used for tomatoes can be converted to grow the drug as both plants have similar growth needs.
The joint venture will focus on selling cannabis in Denmark, Sweden, Norway, Finland and Iceland.
Aurora Nordic Cannabis will build a production facility that can produce up to 120,000kg of cannabis annually, Aurora said.
Title: Canada To Impose Fines Up to $1 Million for Cannabis Growers Using Banned Pesticides
Author: Beyond Pesticides
Date:  3 January 2018
Extract: URL: Companies licensed to grow cannabis in Canada will be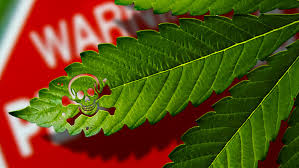 required to submit to mandatory testing and will receive fines of up to $1 million if their product contains banned pesticides. The new measures announced by Health Canada come as the country prepares to launch its recreational market in July 2018, and reports from national news outlets are sounding the alarm over widespread contamination of the ongoing medical cannabis market. Canada's move is being closely watched by growers and regulators in the United States, where 29 states currently allow some form of medical or recreational cannabis to be sold, each with different pesticide rules.